Top Five Technology Trends In Logistics - 2020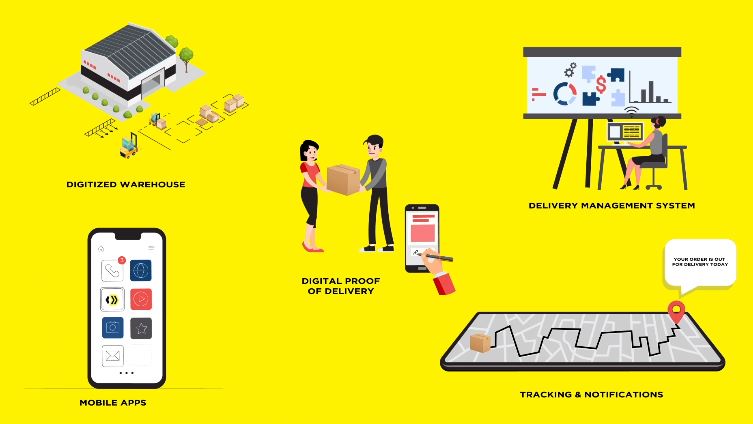 With the increasing demand for technological aspects across industries, logistics & shipping is one of the industries where the technology is at peak. Every logistics company like Esnad Express, whether it is a start-up or well established one, wants to improve the delivery of shipment, logistics operations with minimal errors in transit and in the warehouses. So that they can delight their customers whether it is individuals or businesses as end customers.
Emerging technology trends in logistics like artificial and augmented intelligence, advanced analytics, and automation, to name just a few. These technologies have evolved faster than ever while startups with even newer solutions and innovations continue exploring at a rapid rate. With these innovations, there are new expectations and standards, forcing logistics companies to either adapt or fall behind. Much pressure comes from customers in the form of individuals and businesses, who are demanding their products or services come faster and cheaper than ever before.
Following are Top 5 Technology Trends In Logistics 2020
Data Streamlining and Advanced Analytics
This is one of the most important trends in logistics. There have been a significant collection of data by logistics companies however it has been in the scattered forms. Which was making it difficult to digitize operations. Logistics companies have realised the importance of it and started streamlining it and creating a infrastructure in that direction.
The logistics technology startups are helping bigger core logistics companies to cleanse and digitize their data, allowing them to then use that data for advanced analytics and predictive optimization. This includes better supply chain visibility, demand forecasting, proactive linehaul planning, predictive maintenance, unexpected conditions detection, and last-mile delivery improvements. When data is standardized and digitized across the logistics industry, all companies will be able to benefit in a massive way.
Digital Twins
It could be a warehouse, a shipping container etc. It is a virtual replica of the physical object of the logistics ecosystem and always associated to monitor and simulate both the physical state and behavior of the object. The digital twins can provide insights from the past, optimize the present and even predict future performance of logistics company like Esnad Express.
Augmented Intelligence, AI & ML
The logistics industry has started incorporating Artificial Intelligence solutions to enhance every aspect of logistics operation whether it is route planning & optimization or digitized warehouses. In addition, Augmented Intelligence gives a boost with human intelligence which combines other factors like experience, responsibility, common sense etc. into it.
Automated Vehicles
There have been efforts in the industry towards replacing drivers with automated vehicles up to some extent. It is in trials to see if the service can be improved along with bringing efficiency into transportation. This can be helpful however replacing the drivers completely will require a lot of time & testing.
Warehouse Robotics
It has been observed that warehouse operations have seen a lot of technological advancements to streamline the operations and reduce the errors. This is one of the trends in logistics that has a potential to continue in 2020 & after.
Due to changes in regulations, there have been a few obstacles with regards to legal & physical aspects of logistics. However there will be a lot of effort towards these technology advancement in the coming years. It is altogether a different story that which ones can be adopted depending on what works out well and what does not.
In 2020, you can expect to see many of the above trends in logistics continue to develop since they are still massively useful.
About - Esnad Express offers logistics services & solutions and serves the industries like ecommerce, energy, chemical, healthcare etc.