Commendable Customer Service by ESNAD Express
Customer service has an important role for any organization to sustain in the market and retain the customers for its business. Along with the core services of the organization, one needs to put all the efforts in order to resolve the customer's questions and make them happy.
The primary goal of an organization to set up a customer service team is to understand the customer's needs and build trust in your brand.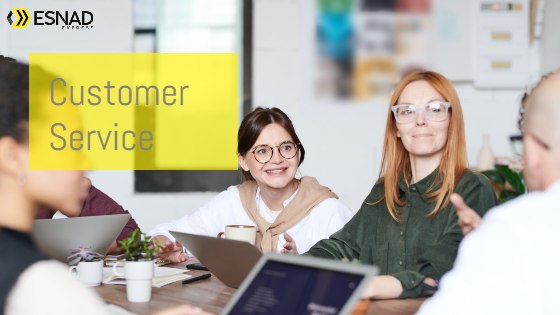 In this blog, we will take a look at the following aspects of the customer service and particularly in the logistics industry.
Importance of customer service
It is very critical that you pay attention to customer service throughout from day one. There are many examples out there that show that if you lose the attention as you grow, it impacts the customer service badly and then the company image ultimately. It could be due to limited resources or increased volume of customers or a lack of efficient technologies to support the customer service department.
These days, customers expect hassle-free & on-time delivery of their products. So in order to meet these expectations, the logistics companies need a strong customer service team. The customer service team can resolve the questions that your customers may have and build a rapport by giving honest information on the questions.
If we build an efficient customer service team, it can yield in better brand image, a word of mouth from happy customers, customer retention.
Components of customer service
These components are related to each other, so has an impact on overall customer service.
- Knowledge - The customer service team needs to have a thorough knowledge of the domain as well as processes so they can help customers with their questions effectively.
- Prompt Response - Even if it takes time to resolve the question, it is very important to respond promptly to the customer with appropriate language and details.
- Quick Resolution - With knowledge & timely response, your customer service team should be able to resolve the questions on first-call itself.
- Customer Experience - With what systems & processes you may have around your customer service team, starting from raising a support request online or on a call to resolution. At every point, you need to focus on providing a better customer experience.
Based on the practices implemented at Esnad Express, here are a few tips to improve customer service.
There are a lot of factors in the logistics & shipping industry that have an impact on customer experience however with the help of technology and well-established processes, you can be on top of providing a better customer experience.
- Put in place support ticketing system - This will help you to have a central & transparent place for everyone to help customers. This will help in maintaining consistency & faster response in your communication
- Educate employees on processes - With daily check-in, weekly reviews & training, you can provide a learning platform for your customer service reps so that they can help your customers.
- Have a single POC or customer-facing reps for a particular support ticket - You can accomplish this with automatic routing and by taking internal discussions on a particular ticket offline or without involving customers in it.
- Be available on multiple communication channels - Incorporate multiple channels of communication in your customer service strategy.
Esnad Express uses a system that has all of these factors incorporated. We have been able to support our customers effectively.
About - Esnad Express offers logistics services & solutions and serves the industries like ecommerce, energy, chemical, healthcare etc.